Check out this amazing artwork from BZTAT displayed at this years BlogPaws 2011 conference in Tyson's Corner, VA...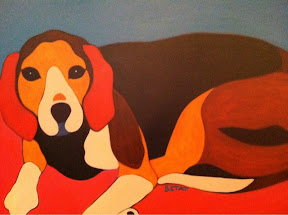 More info on BZTAT...
Artist Vicki Boatright, known as "BZTAT" (pronounced bee-zee-tat), is an accomplished artist with several public art projects to her credit. An avid pet lover and business partner to her cat Brewskie Butt, she is well known to the blogging community.
Vicki specializes in whimsical drawings, paintings and prints of cats, dogs and other companion animals. She creates colorful customized pet portraits, which are unique in their original contemporary style.
Also read more about Okey's Promise...
a public art project designed to create awareness about the connections between animal maltreatment, child abuse and domestic violence. Statistics back up my own anecdotal experience as a therapist for trauma survivors. There is a strong link. When animals are in danger, chances are, children are too.

The purpose of Okey's Promise, named for a small rescued cat, is to create artworks that will be prominently viewed in the community to generate interest and awareness. They will be positive in nature. The purpose is to remind us of the riches we have in helping those who are most vulnerable in society.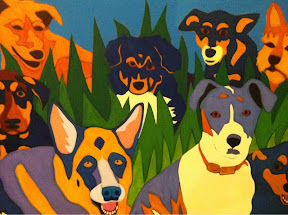 You can even get her to create a custom portrait of your pet - how cool!
Pop art portraits are artistic interpretations of your pet that are painted in a colorful and highly customized pop art style. These paintings reflect the unique characteristics of your pet in a semi-abstract pop art style that remains true to the character of the animal in a unique way that only BZTAT can achieve! These paintings take man hours to complete due to BZTAT's technique of layering various colors to develop her unique style. For a less customized and more economical portrait, see the Contemporary Folk Art portraits.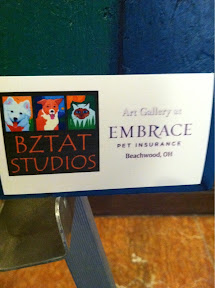 - Posted using BlogPress from my iPhone...typos are part of my charm!